*
ATTENTION EXPECTANT PARENTS
Dr. Kovacevic is a member of the Medical staff at the following hospitals and would be honored to take care of your baby during its newborn hospital stay:
Hinsdale, IL
Downers Grove, IL
*
Free Baby Care Video
produced by Doctor Kovacevic
*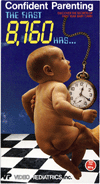 New Parents Help

If you would like to obtain more information, please call our offices:

HINSDALE 630.986 1010

LISLE 630.852 7666

or e-mail your inquiry

NOW...LET'S BE HONEST!

(1) DO YOU REMEMBER THAT YOUR BABY MUST ALWAYS SLEEP ON IT'S BACK OR THE SIDE, AND NEVER ON ITS STOMACH?

(2) DID YOU PLACE ANY SOFT PILLOWS, BLANKETS OR SOFT TOYS INTO BABY'S CRIB? DON'T!
(3) NEVER USE THE MICROWAVE OVEN TO WARM UP BABY'S FORMULA!
(4) DO YOU CHECK BABY'S BATH WATER TEMPERATURE EVERY TIME BEFORE THE BATH?
(5) DO YOU CHECK BABY'S BOTTLE CONTENT TEMPERATURE EVERY TIME BEFORE FEEDING?
(6) IDEALLY, TEMPERATURE IN BABY'S ROOM SHOULD BE 71 DEGREES (DAY) AND 69 DEGREES (NIGHT) DURING THE WINTER MONTHS AND 70 TO 75 DEGREES DURING THE SUMMER. WHAT IS THE TEMPERATURE IN YOUR BABY'S ROOM?
(7) HAVE YOU CHECKED YOUR HOME HUMIDIFIER LATELY? REMEMBER: THE INDOOR HUMIDITY SHOULD BE BETWEEN 40 AND 50%!

(8) DOES ANYONE IN YOUR HOUSEHOLD SMOKES? MAKE THEM QUIT! ...OR AT LEAST RESTRICT SMOKING TO A SINGLE ROOM IN THE HOUSE AND MAKE SURE THAT BABY AVOIDS IT AT ALL TIMES.

SIBLING JEALOUSY?

If there is another sibling(s) in the family, especially if he or she is younger than 3 years of age, your return home with the new baby can provoke certain unpleasant behavioral outbursts (increased clinging, frequent temper tantrums, poor sleeping habits, overuse of word "NO", etc.). Contrary to the popular belief that these behavioral changes are a result of jealousy directed toward the new baby, they are nothing more than a reaction to the changes in child's (children's) normal daily routine. Sooner are you able to reestablish the previous routine, quicker will this behavior abate.

We wish to welcome you to our Web home and thank you for the interest in our practice. Accept our sincere congratulations on the new arrival to your family. We would be honored if you would choose our practice to help you in your new parenting endeavor.
FEW HELPFUL POINTERS
During your hospital stay following the delivery you have likely received a slew of information about the basic care of your baby at home. Here are few additional points and reminders that you might find helpful.

If you are breast feeding: It will take several days for the breast milk to come in. During that time only colostrum will be present. Nurse the baby in more-or-less regular intervals (2 1/2 - 3 1/2 hours), gradually increasing the length of the feeding to about 10 - 15 minute on each breast. Do not overdue it! Nipples can get sore rather quickly. The true secret of successful breast feeding is not in your technique, but in your attitude. When you are breast feeding put all of your worries, concerns and frustrations aside and enjoy the moment. Remember: if you are upset or uptight, your baby will react to it by getting upset as well.
If offering formula: Continue with the formula your baby has been started on in the hospital. Feeding schedule should revolve around 3 to 3 1/2 hour intervals. The amount of formula offered at a single feeding should not exceed 4 oz. during the first two weeks of babies life, to be followed by a gradual increase thereafter up to a maximum of 6 oz. per feeding.
Burping, water supplementation, etc.: Baby should burp after each breast (if breast feeding) or after every 1 - 2 oz. of formula (if bottle feeding). If baby becomes fussy in between feedings and usual comforting techniques fail, a bottle of distilled or nursery water can be offered. Bottles should be heat-sterilized until 3 months of age. Later, careful washing should be sufficient. If you are breast feeding, do not supplement with formula unless advised to do so by Pediatrician.

FEW SUGGESTIONS ON GENERAL CARE

Bath: A daily bath is recommended. Start with a sponge bath (until the cord falls off) and continue with a full bath after that. Schedule baths at the same time of the day, preferably in the evening and just before that last evening feeding. A bath followed by a good feeding will likely give you couple of extra hours of sleep. Bath water temperature should be as close to the baby's body temperature as feasible. Make sure that you test the bath water temperature with your forearm every time! Use basic, gentle soap (like Ivory soap). There is no need for any lotion, powder, etc. unless advised otherwise.
Umbilical cord care: The umbilical cord should be cleaned several times a day with rubbing alcohol. It might take several days to several weeks for the cord to fall off. Do not hasten the process by any manipulation.
If circumcised: Apply Vaseline generously to the area with every diaper change.
Diaper rash: If baby's bottom becomes red and irritated apply Nivea Cream on to the area. No Desitin, please!
Baby's "social life" should be limited to your home for the first few weeks. Outings, crowds, etc. should be avoided during the first month of baby's life.
Siblings, particularly those younger than three years of age must never be left alone with the baby. If you have pets, keep them away from the baby and also never leave them alone with the baby.
Personal emergency telephone directory: Immediately upon return home from the hospital a short list of important telephone numbers should be compiled and placed next to the telephone. Include the following telephone numbers: Pediatrican's office and answering service numbers, telephone number of newborn nursery of the hospital baby was delivered at, Poison control center in your area, local pharmacy, etc.

BABY'S FIRST APPOINTMENT WITH PEDIATRICIAN
Baby's first appointment with the Pediatrician should be scheduled within a week following discharge from the hospital. If there is a need for an earlier appointment you should be advised accordingly. Call Pediatrician's office immediately upon you arrival home from the hospital and make the appointment. Learn to prepare yourself for the appointment. Write down all your questions and bring the list with you to the office. If you are handed any pamphlets or written instructions by your Pediatrician or the office staff, read them before leaving the office. If there is anything you don't understand make sure you ask for an explanation.
FEW THOUGHTS
A relaxed and happy baby is a natural result of relaxed and confident parents. Common sense remains the ultimate tool in child care and cannot and should not be substituted by random advice and unsolicited opinion however well intentioned they might be.

SUDDEN INFANT DEATH SYNDROME (SIDS): see the latest on its prevention in our i-Newsletter.

PLEASE REMEMBER! The best and probably the only proper way to protect your new baby from an infection (including colds, flu etc.), is the strict enforcement of hand washing routine (2 minutes of vigorous hand washing with soap and water before handling the baby). Recent scientific studies confirm that this simple routine can decrease the incidence of infection transmission to children by as much as 80 percent!
Copyright by WebPediatrics.com©2003 *
Modified
Tuesday, August 30, 2011